When to Go to Beaches in Vietnam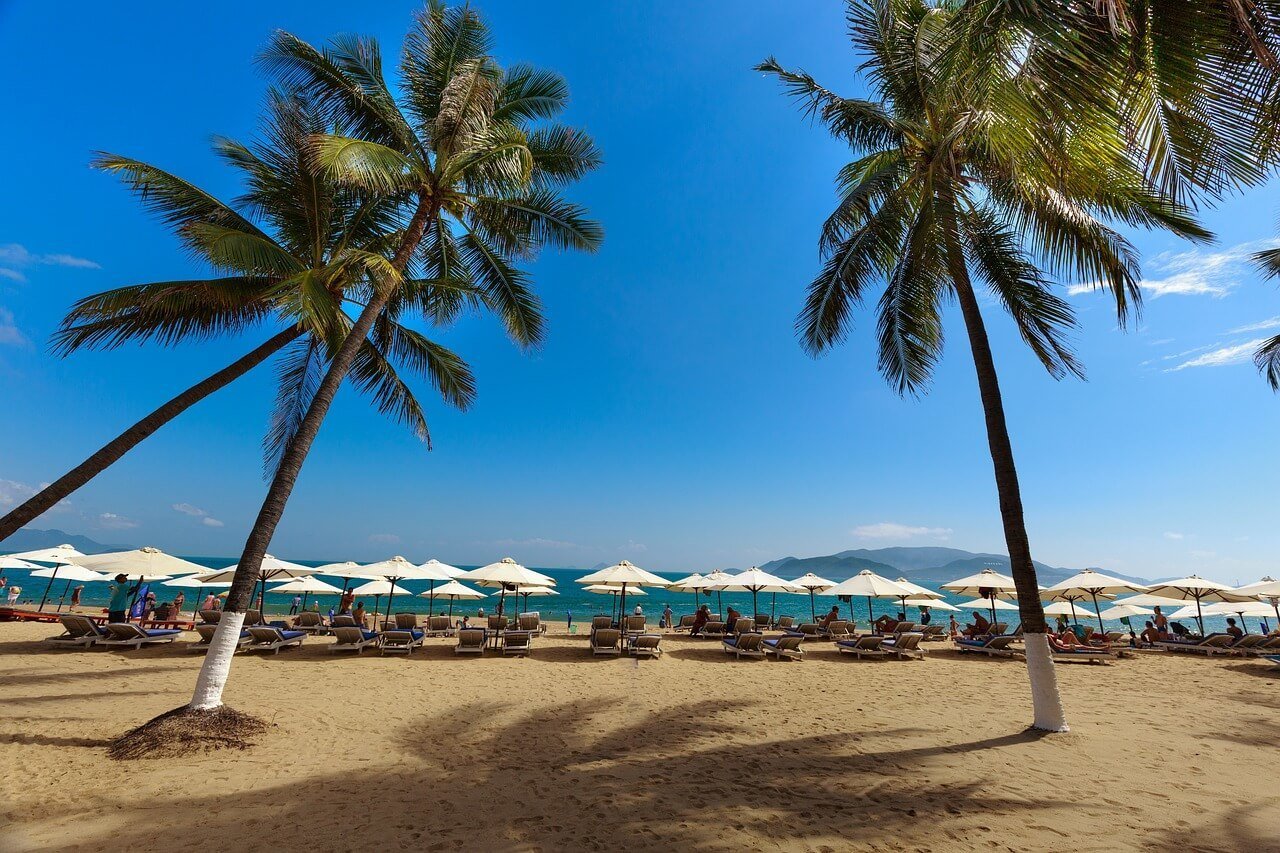 You may not realise it from looking at a map, but Vietnam is a pretty long country. It takes more than a day to travel from Hanoi in the north to Ho Chi Minh City in the south – unless you take a plane, of course. But if you do that, you'll miss some of the best beaches in Vietnam. With such a huge country, the climate differs throughout, meaning it's hard to pin down the best time to visit.
The good news is that there's no wrong time go backpacking through Vietnam. However, beach lovers tend to want sunshine, so try and avoid the tropical monsoon weather. In the north of the country, this lasts from October to April, while in the south, it's from May to September. It's best to work out where you want to visit and plan around that.
For travellers planning some stops at the beach while seeing the entire country, the best times to visit are autumn and spring. This is when the weather isn't stiflingly hot and humid, and it's not super-crowded.
Best beach for sunset viewing in Vietnam | Binh Minh Beach (Quang Nam)
Who It's For: The beach's untouched natural beauty and unspoiled surroundings are extremely suitable for visitors seeking an escape from the hustle and bustle of everyday life
Don't Miss: The stunning sunsets, swimming in the clear blue water, and enjoying fresh seafood
Binh Minh Beach stands as a pristine coastal paradise in Quang Nam province, Vietnam. Its idyllic setting, breathtaking natural beauty, and abundance of recreational activities make it an ideal destination for those seeking tranquility and adventure. Whether you're looking to unwind on sandy shores, delve into the wonders of nature, or engage in thrilling water sports, Binh Minh Beach promises an experience that will leave an indelible mark on your heart. Embark on an unforgettable journey to Binh Minh Beach and let its serene ambiance and unspoiled charm captivate your senses.
Most Popular Beach in Vietnam | My Khe Beach (Da Nang)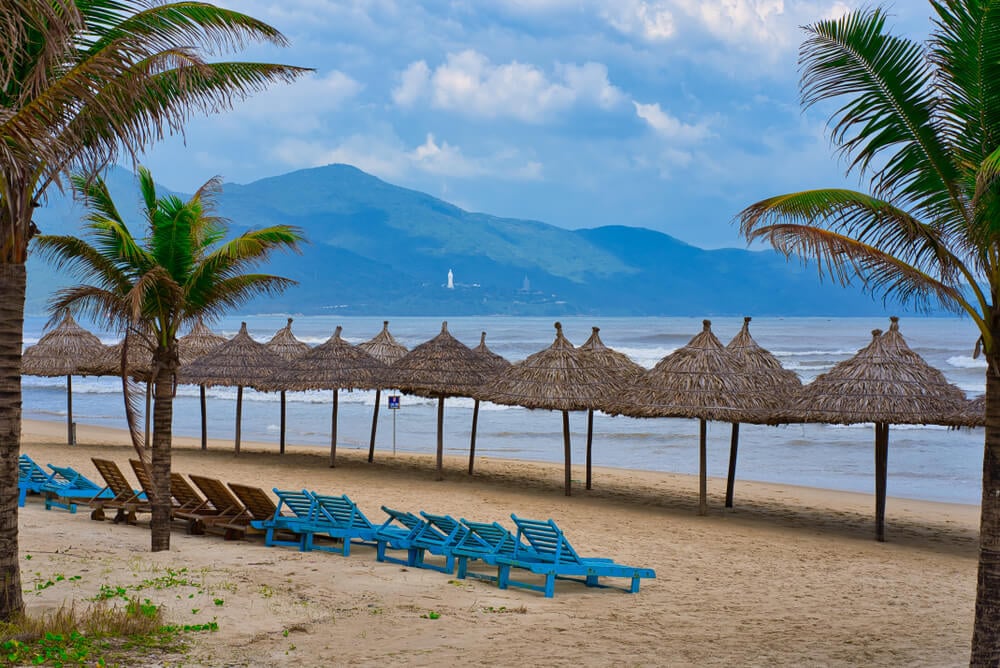 Who It's For: Seafood lovers can enjoy delicious Vietnamese cuisine while watching the sunset on these powder-white sands.
Don't Miss: Head into central Da Nang after a day at the beach for a show of lights, fire, and water. The Dragon Bridge comes alive at 9 pm on weekends.
Da Nang is one of the most popular destinations in Vietnam, and one of the easiest to get to. It's almost slap bang in the middle of Hanoi and Ho Chi Minh City and boasts more than 28km of coastline. It's a favourite of locals and tourists alike, with some sections open to the public and others belonging to high-end resorts. Walks on the beach are made even better by the soft white sand and warm waters – and the endless palm trees you can duck under for a bit of shade.
Best Beach for Swimming in Vietnam | Long Beach, Phu Quoc Islands
Who It's For: If you fancy a casual swim without any fears of being swept away, staying in Phu Quoc close to Long Beach is perfect
Don't Miss: If you're looking for a spot to lay down your towel, you can do a lot worse than the 19km of Phu Quoc's Long Beach.
Long Beach is the quintessential tropical beach in Vietnam – powder white sand coupled with turquoise waters on the backdrop of tropical forest. Locals are friendly; as you're dozing off, you might wake up to being offered fresh pineapple or a massage.
The waters on this beach are more like a lagoon, so even the most novice swimmer can paddle without fear. If you're looking for the best beaches in Vietnam to laze in the ocean and chill on the sand, this is it!
Most Beautiful Beach in Vietnam | Ha Long Bay
Who It's For: Everyone. No Vietnam itinerary is complete without a stop in Ha Long Bay.
Don't Miss: Surprise Cave. We won't give away what's in there!
Okay, you caught us out. Ha Long Bay isn't a beach. However, the archipelago in Northern Vietnam is one of the most beautiful destinations on earth. Made up of almost 2,000 islands, the only way to properly see this place is via a boat cruise. During your cruise, you're likely to stop off on gorgeous secluded beaches, where you'll enjoy traditional Vietnamese cooking and perhaps swimming and snorkelling. If you can, stay in Halong Bay's best accommodation for an unforgettable experience.
Best beach for sunbathing in Vietnam | Mui Ne Beach, Phan Thiet
Who It's For: People who love water sports such as windsurfing and kitesurfing, as well as those looking for a relaxing beach vacation with beautiful scenery and fresh seafood
Don't Miss: The sunrise over the dunes, kitesurfing, visiting the fishing village, and trying delicious seafood.
Mui Ne Beach in Phan Thiet is a picturesque destination along the South Central Coast of Vietnam. It is known for its stunning sand dunes, clear waters, and palm-lined beaches. The beach is a popular spot for water sports enthusiasts, with activities such as kite surfing, windsurfing, and jet skiing on offer. The area is also known for its fresh seafood, which can be enjoyed at the many beachfront restaurants. Visitors can also take an ATV ride through the dunes, visit the nearby fishing village, or simply relax and soak up the sun. It is also a great place to relax and unwind while enjoying the stunning natural scenery.
Best Beach for Peaceful Atmosphere in Vietnam | Doc Let Beach, Cam Ranh
Who It's For: Travelers seeking a peaceful and uncrowded beach experience with white sand and clear water in Vietnam.
Don't Miss: The crystal-clear waters, white sand beaches, fresh seafood, and water sports activities
Doc Let Beach is a stunning stretch of soft, white sand and crystal-clear waters located in Cam Ranh, Vietnam. It is a hidden gem, with fewer crowds than other popular beaches in the area, making it a peaceful and relaxing spot to enjoy the sun and sea. The beach is surrounded by lush green hills and coconut trees, adding to its natural beauty. Visitors can also indulge in various water activities such as swimming, snorkeling, and kayaking. There are several beachside restaurants offering delicious seafood and local Vietnamese cuisine.