Why Move to Vietnam?
The main pulling factor for people moving to Vietnam is affordability. Your money stretches further than it would back home. From places to live to all the food you can eat, leisure activities and more, the quality of life – if you're earning a Western currency – is high.
Plus, what's not to love about year-round warm weather? As a tropical country, Vietnam is home to rain and shine, a far contrast to spending a few months of the year in winter clothes.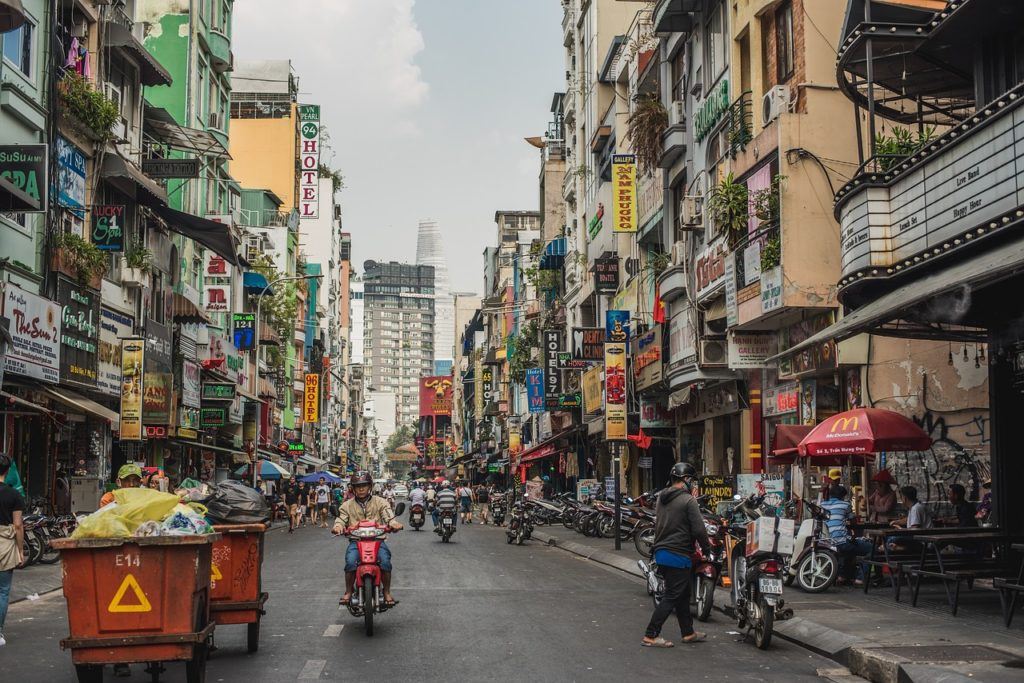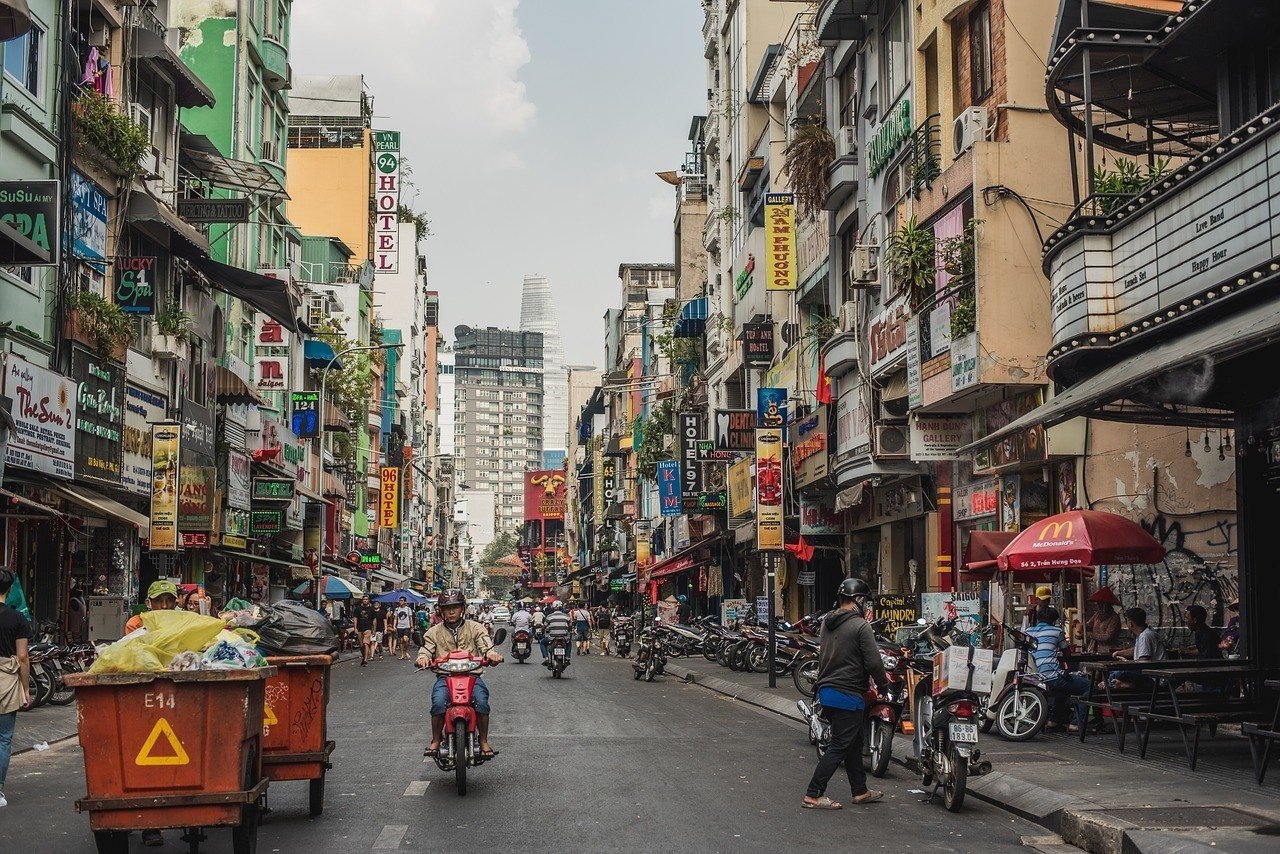 Moving to Vietnam is a chance to start from scratch, and experience things out of your comfort zone – but in a good way. Luckily, the visa requirements here are on the liberal side, comparing to its neighbouring countries in the region, with a stable political climate.
Vietnam has become increasingly popular as an expat destination in recent years, and it is now recognized as a safe place for foreigners to live and work. The welcoming hospitality of its people is what makes Vietnam unique and exciting.
Cost of Living in Vietnam Summary
Before you get swept away by the sparkles of life in Vietnam, let me give you an overview of the cost of living in Vietnam, unfiltered.
Note, however, that these prices are subject to fluctuations that can vary from time to time. Not at a drastic rate, of course. This budget is based on the kind of lifestyle that would render your stay comfortable, not too spendthrift or cheap, and is taken from a variety of reliable sources. 
| Expense | $ Cost |
| --- | --- |
| Rent (Private Room Vs Luxury Villa) | $300 – $551 |
| Electricity | $45-$90 |
| Water | $4.40 |
| Mobile Phone | $29-$176 |
| Gas | $0.80 per litre |
| Internet | $11.39 |
| Eating Out | $2.21 – $105 per month |
| Groceries | $100 |
| Housekeeper | $48 |
| Car or Scooter Rental | $0.30 – $0.53 |
| Gym Membership | $23 |
| TOTAL | $1,110.12 |
What Does it Cost to Live in Vietnam – The Nitty Gritty
Now let's take a closer look at the real deal of life in the land of the Ascending Dragon (yes, that's what the word Vietnam means, pretty cool huh?) 
Rent in Vietnam
If you're planning to make the move to Vietnam, your main concern will be the cost of the rent. Like most places across Southeast Asia, the cost of living in Vietnam is pretty cheap. However, rent is somewhat higher for foreigners. 
A small studio apartment in Saigon or Hanoi can go as low as 5 million dong ($220) monthly, but won't be particularly high-quality. If you're willing to spend a bit more, 10-12 million dong ($440 – $525) will get you a spacious and modern serviced one-bedroom apartment in a prime location. 
You would be asked to pay your rent from a month to two months in advance along with a deposit fee. Typically, a small studio apartment or one-bedroom apartment in the city centre would cost anywhere between $200-$350 per month.
If you're looking for a more comfortable option with more space, a three-bedroom apartment in the city can cost you $800 a month.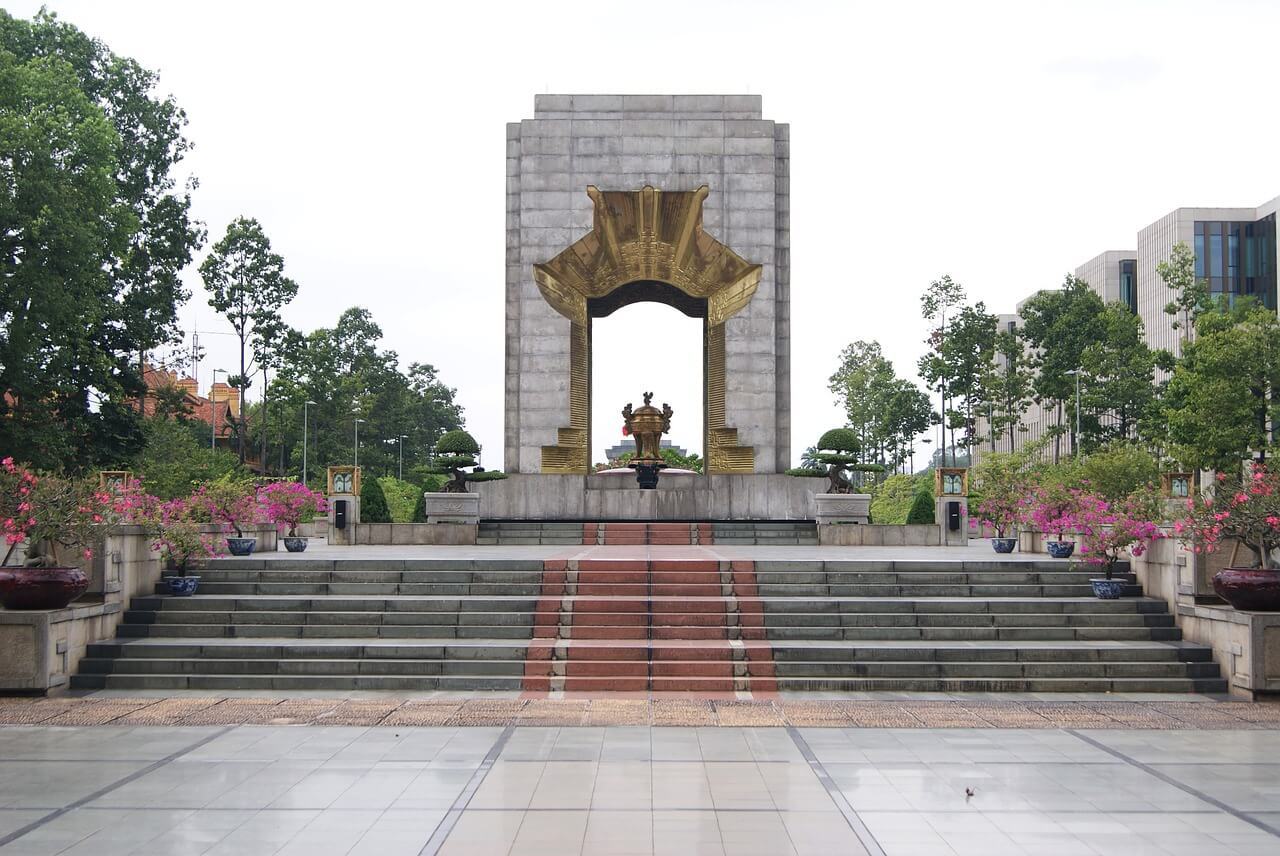 In smaller cities like Ha Long, the rent is even lower. A two-bedroom apartment with a sea view can go as low as $265. For extremely tight budgets, you can opt for a small air-conditioned studio that costs about $90. 
To find places that would suit your lifestyle, you can always visit Facebook expat groups, talk to a real estate agent, or look at property websites such as Batdongsan. For long-term stays, do note that you would require a work permit or business visa to officially sign up for an apartment. With a tourist visa, landlords prefer to only let out short-term stays. 
Shared Room in Hanoi – $265
Private Apartment in Hanoi – $90
Luxury Option in Hanoi – $440-$525
Studio Apartment in Hanoi – $220 monthly
To be safe, I suggest booking an Airbnb for your first few weeks, while you decide where to stay in Vietnam.
Transport in Vietnam
Overall, the transportation costs in Vietnam are low for things such as fuel (petrol/gasoline), car hire, public transport, vehicle purchase and maintenance. The primary means of transportation is scooter/bike, due to its low costs and convenience. I doubt you would be comfortable getting on a bike as soon as you arrive, but a great alternative is the public transport system. A monthly pass would cost you roughly $8.85. 
The cheapest alternative is the bus, going for $0.40 for a trip anywhere! Making it ideal for most people on a budget. It is also a great way to explore the city.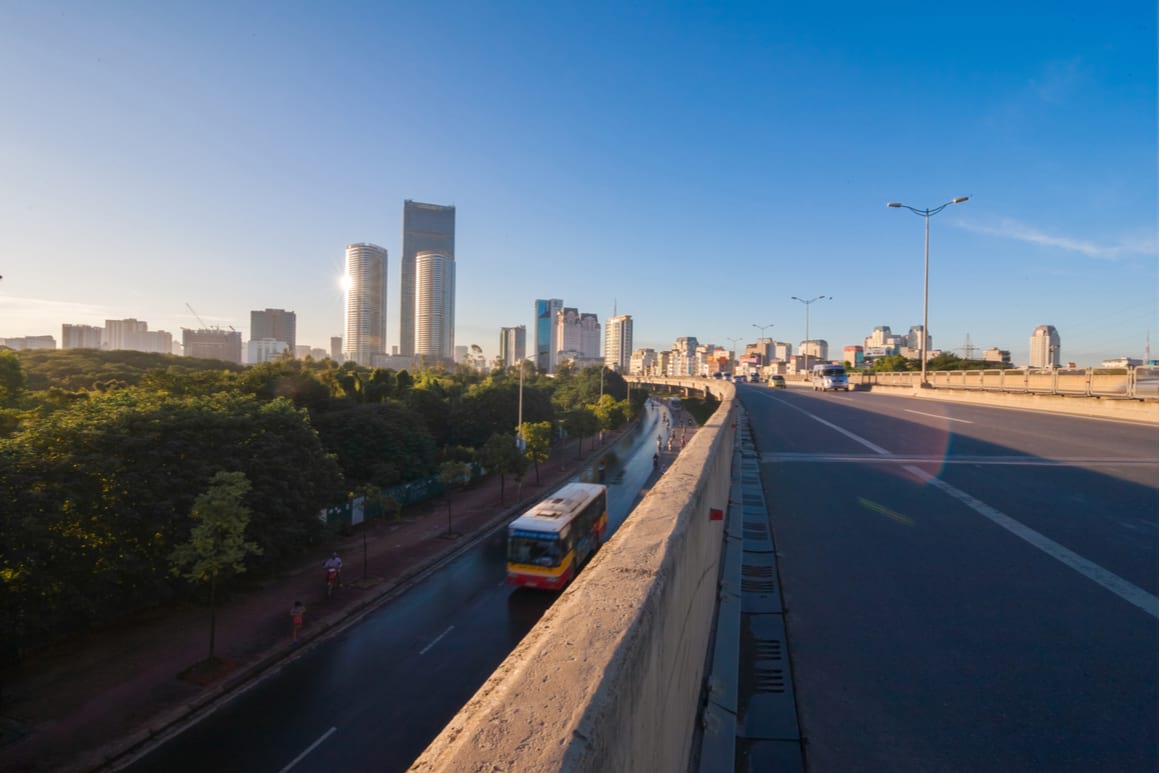 Another option would be to call taxis for hire, or Grab. If you're commuting every day for 30 minutes, Grab rides can cost you $130 a month, but this is a rough estimate subject to other factors like weather conditions and cities. 
You can rent an automatic scooter for anywhere between $22 to $35 a month, or consider buying one at most for $700+. Here is a picture of some of your transport options : 
Taxi Ride (Airport to City) – $13-$20
50cc Scooter Rental (per month) – $22-$35
Food in Vietnam
The food scene in Vietnam is dreamy, delicious and affordable, to say the least. A go-to option is street food which can be found everywhere you go. Unlike other places, eating out is extremely affordable, especially street food. On the contrary, eating in can cost you more, but not at an extravagant measure.
A full meal in a cheap restaurant can cost you between $0.80 to $1.70. This is a whole meal like fried rice or pho. If you opt to eat out every day, this can look at $105. If you're into a change of scenery, dining in at a fancy restaurant costs roughly $13.15 a meal, or $265 monthly. 
That being said, for someone looking for a long-term stay option, you can only eat out for so long, which is why I suggest that you opt for some home-cooked meals if you're getting used to Vietnamese food. 
Supposing you eat home-cooked meals of locally produced food, this can look at $200 monthly. 
Rice (1Kg) – $0.87
Bag of Potatoes– $1.36 (1 kg)
Chicken (double breast) – $3.99
Vegetable Oil – $1.54 (1 litre)
Bread (Loaf) – $1.04
Eggs – $1.44 (12 pieces)
Milk – $1.59 (1 litre)
Water – $0.51 (1.5 litre bottle)
Drinking in Vietnam
Drinking tap water isn't recommended in Vietnam. In fact, this is the same all over Southeast Asia. It is best to buy your own water. A 1.5 litre bottled water costs $0.51. In any case, it is best to boil tap water before drinking it, or as some do, install water filters and purifiers. 
The flip side is that alcohol is quite cheap. Beer can cost you anywhere from $0.88 to $1.95. Wine, however, is substantially priced on the higher side. A bottle of Vietnamese wine is priced typically at $8 whilst imported wine can start at $17. 
A plus point is the coffee. Vietnam is the second-largest coffee distributor in the world, just behind Brazil. Best believe you are able to find good coffee on almost any corner. Coffee at fancy cafes will only cost you $2.65. Isn't that the life? 
Why Should You Travel to Vietnam with a Water Bottle?
Plastic washes up on even the most pristine beaches… so do your part and keep the Big Blue beautiful!
You aren't going to save the world overnight, but you might as well be part of the solution and not the problem. When you travel to some of the world's most remote places, you come to realise the full extent of the plastic problem. And I hope you become more inspired to continue being a responsible traveller.
Plus, now you won't be buying overpriced bottles of water from the supermarkets either! Travel with a filtered water bottle instead and never waste a cent nor a turtle's life again.
Keeping Busy and Active in Vietnam
Assuming you're not moving to Vietnam to work and stay put in your house, there are a variety of leisure activities that you can take up. Cost is very low for items such as books, cinema, sport and theatre tickets. A cinema ticket of an international release is priced at $4.95 per adult.
If you are into fitness, a recreation or sports club membership can look at $27 monthly for one adult. 
You can't move to this beautiful, tropical country without spending time on the best beaches in Vietnam, and exploring the incredible landscapes.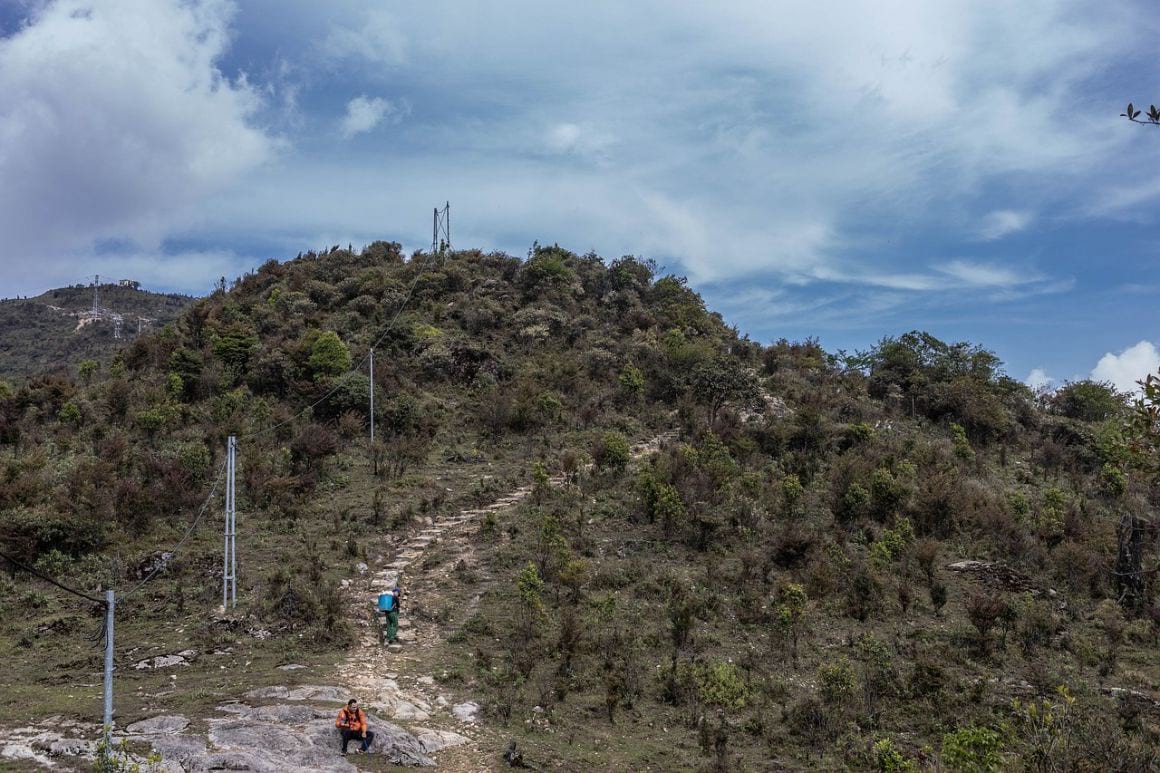 Fine Arts Museum – $0.40 per entry
Hiking Entrance Fee – $10-$13
Surfboard – $100-$300
Mui Ne Day Tour – $50
Yoga Class – $12
Gym Membership – From $23-$27
School in Vietnam
If you're planning on making the move to Vietnam with children, the best option is to choose international schools. However, be vigilant as many schools carry the name "international school" to amp up their status, but instead exclusively teach Vietnamese students. If you want a genuinely international school, be prepared to dig deep into your pockets. 
Popular options are United Nations International School, Vietnam Australia International School(VAS), The American School (TAS), and Singapore International School (SIS). Expect to pay from $8,800 for primary schools per term and $26,500 onwards for secondary schools per term.
Another alternative is for children of teachers – many international schools offer free tuition for their teacher's children. If you are planning on teaching in Vietnam this is an enticing perk. 
Is This the Best Travel Pack EVER???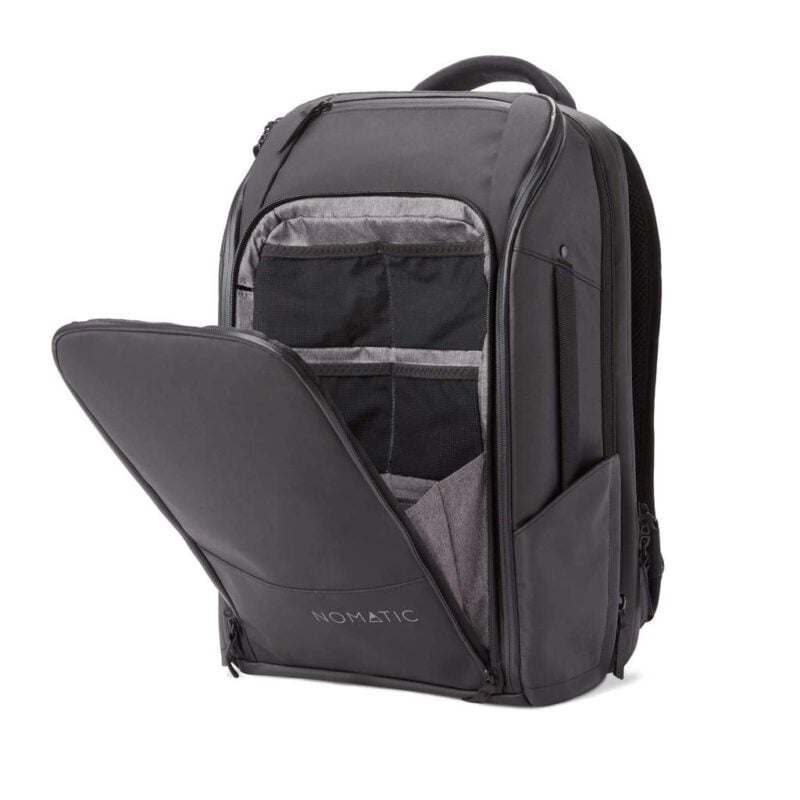 Medical Costs in Vietnam
Overall, the Vietnamese healthcare system is affordable, whether you are opting for public or private options, and is a major factor to consider in the cost of living in Vietnam. 
Let's start with the public healthcare system. The good news is that if you are here on a working visa, your employer is legally obligated to provide you with public healthcare insurance. This means you get subsidised access to a large number of hospitals. A GP's consultation can range from $3.10 to a highly trained specialist at $22. 
If a clean and comfortable environment is important to you, private hospitals offer roughly the same quality of medical care, which can also be within your pocket range at $26. If you're looking for foreign-trained doctors and first-world facilities, Vietnam's major cities have international hospitals. Consultation can start at $66, and a hospital bed ranges between $265 to $300. 
However, though you may be tempted by the various cheap options of healthcare in Vietnam, insurance is still the wisest option. SafetyWing offers a monthly healthcare plan which covers digital nomads, expats and long term travellers. We have been using it ourselves for a while now, and they provide great value.
Visas in Vietnam
There are three main visa options for expats making the move to Vietnam.
First, most semi-permanent expats opt for a tourist visa (DL), which lasts for one to three months. The downside is that you would need to leave the country at the end of the visa period or apply for a visa extension. 
US citizens can get a one-year tourist visa. You can apply for this visa at your local Vietnamese embassy or online.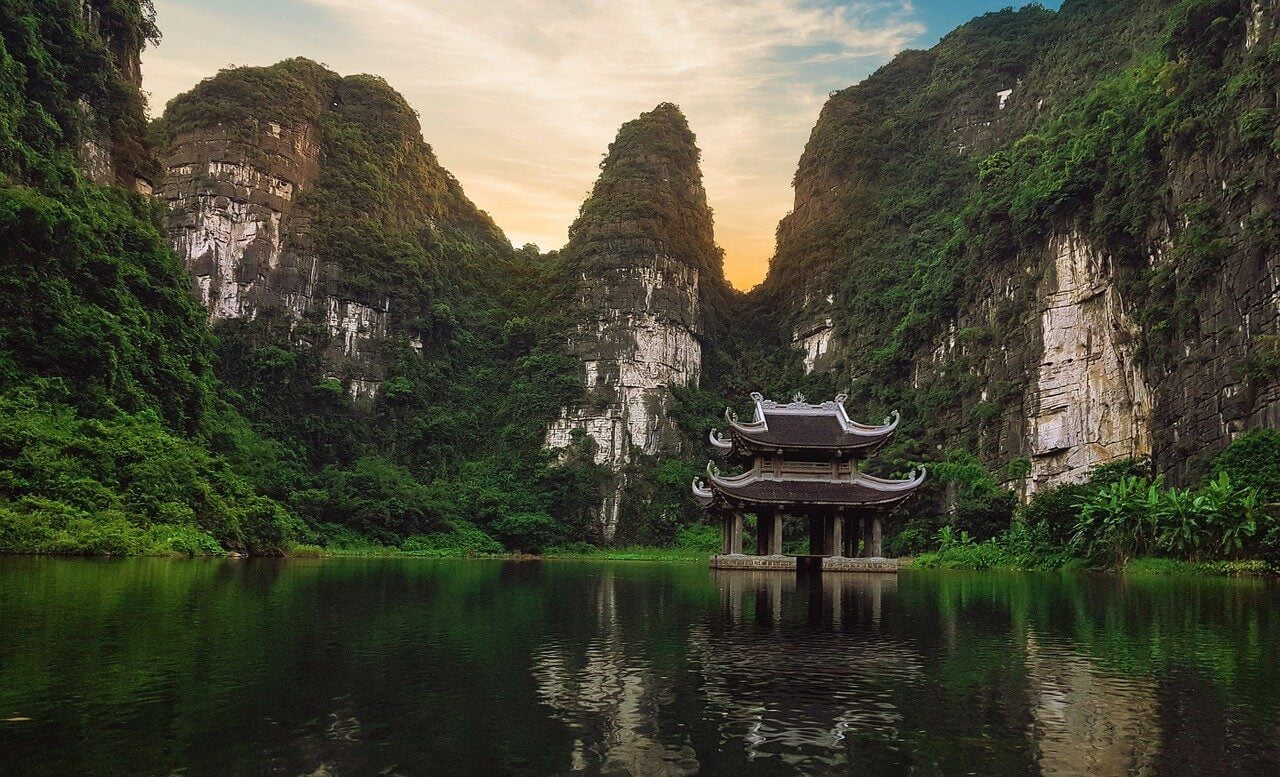 A working visa(LD1-2) is the better option if you're planning on staying in Vietnam permanently. This costs about $50. With this, your company/employer should be able to get you a temporary residence card (TRC) and it is valid for a period of up to 2 years. 
Another alternative would be the business visa (DN1-2) which requires a sponsor, usually your employer, and it allows you to stay up to a one year period. You can still apply for this option even if you don't have a sponsor, but the visa lasts for only 90 days. 
Though these options appear straightforward, do bear in mind that the visa application process in Vietnam is notoriously bureaucratic, sometimes regulations change overnight with no notice given. At the moment, it is not advisable to do 'visa runs' every 90 days due to the pandemic as regulations keep changing within the region. 
Banking in Vietnam
In order to open a bank account, you need to prove that you are permitted to stay in Vietnam for a period of 12 months, and that you have a passport with a validity of at least six months. 
In terms of daily transactions, cash is accepted universally. Credit cards like Visa, Master Card, JCB, and American Express are accepted in many restaurants, hotels, and shops in Vietnam's big cities.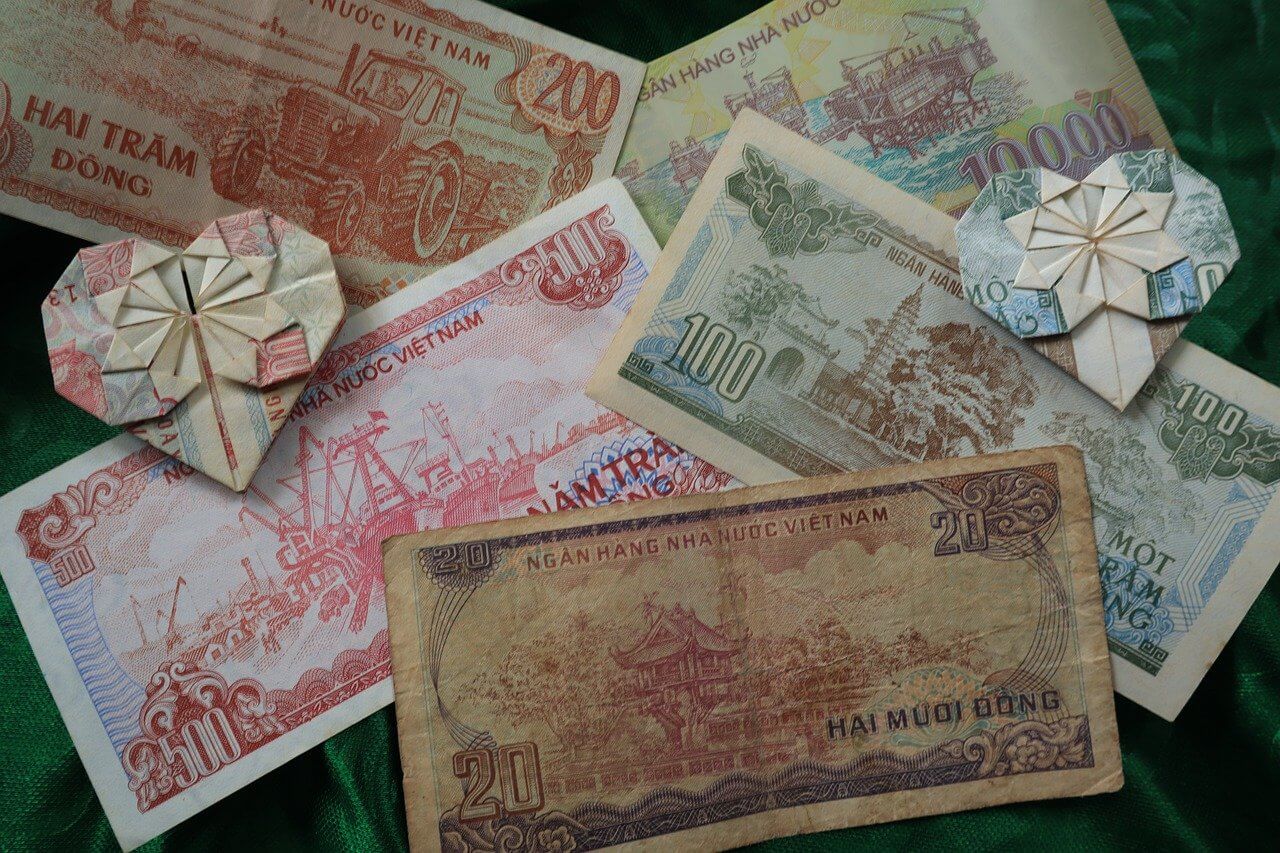 Most expats in Vietnam prefer to open two bank accounts, one in foreign currency and one in Vietnamese Dong (VND). This helps to facilitate money transfers through a foreign bank. You cannot transfer money internationally from your Vietnamese bank account unless the recipient is a member of your family. If you wish to transfer money out of Vietnam, I recommend using money transfer services like Payoneer and Transferwise. 
Some of the most trusted banks in the country include VietinBank and Vietcombank. International banks such as HSBC and Citibank have a big presence in the major cities.
Taxes in Vietnam
Expats in Vietnam are generally subjected to a personal income tax (PIT), and the rates are considerably low when compared to the rest of the world. This depends on your income bracket, though. For example, the tax rate for an income of less than $2,600 USD would be 5% and that of $5800, a 10% rate respectively. 
The good news is that Vietnam has a double tax agreement with other countries, for example, the UK, so you avoid paying taxes back home if you're moving to Vietnam permanently.  For more updated information, it is always best to check with a financial adviser, and the obligations in your home country.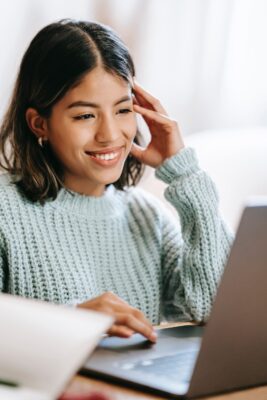 Earn $$$ ONLINE Whilst Travelling the World!
Keen to live the digital nomad dream while travelling the world? Who the hell isn't?
Teaching English online is a surefire method to earn a consistent income on the road. Work from anywhere, change some lives, and earn some dollaridoos while you do it!
Check out this detailed article for everything you need to know to start teaching English online.
Now, I don't want to scare you off, but there are always secondary costs that you must keep in mind and prepare for. This could be your very expensive camera dying on you, your wallet getting stolen or the need to book an urgent flight back home, all of which can really set you back. This occurrence is not only unique to Vietnam, it can happen anywhere.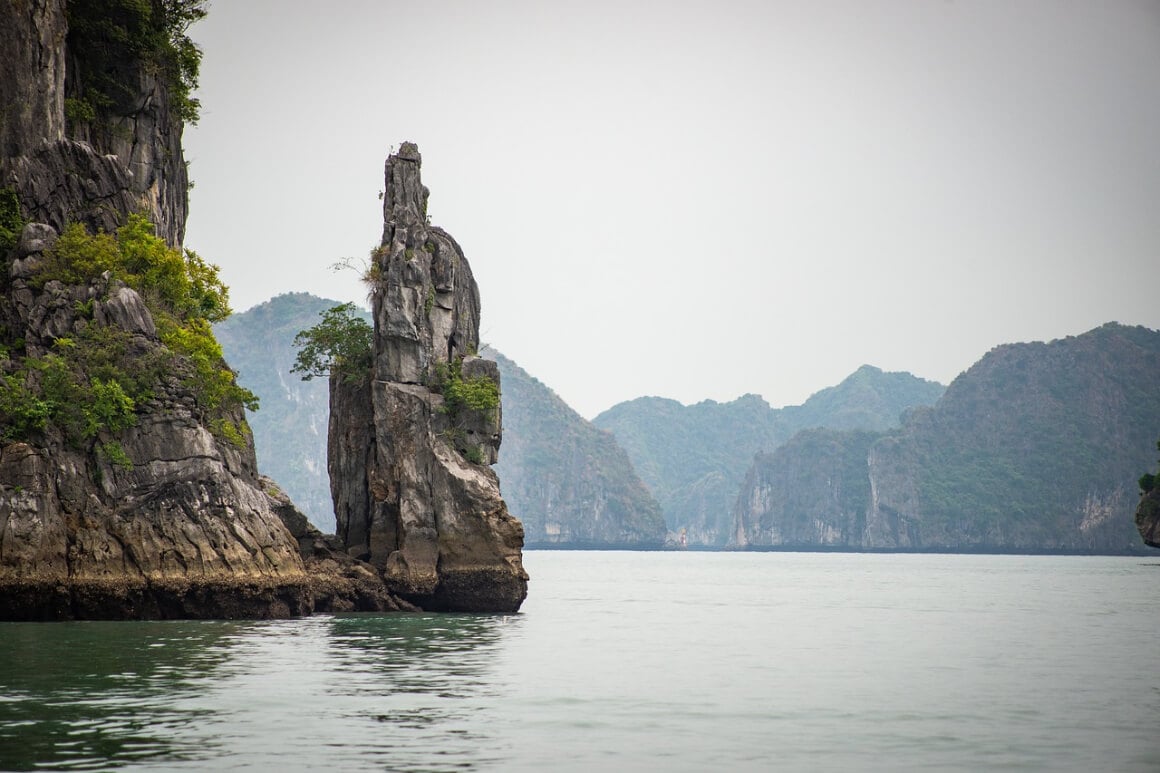 For example, a flight from Ho Chi Minh to London at a week's notice can cost you USD $1,600. Hence, it is best to always save some for a rainy day, and thank me later. 
Insurance for Living in Vietnam
Owing to its cheap costs with high standards of living, most people are comfortable moving to Vietnam without some insurance coverage. But the wiser option remains to take out an insurance plan for your ease of mind. 
After all, foreigners don't have access to free healthcare in Vietnam. If you don't have any health coverage and something happens, you will need more than $1,000 a month. Insurance for a period of three months with a coverage of $35,000 can cost you $85. 
Our tried and true insurance provider would be SafetyWing. 
Month to month payments, no lock-in contracts, and no itineraries required: that's the exact kind of insurance digital nomads and long-term traveller types need. Cover yo' pretty little self while you live the DREAM!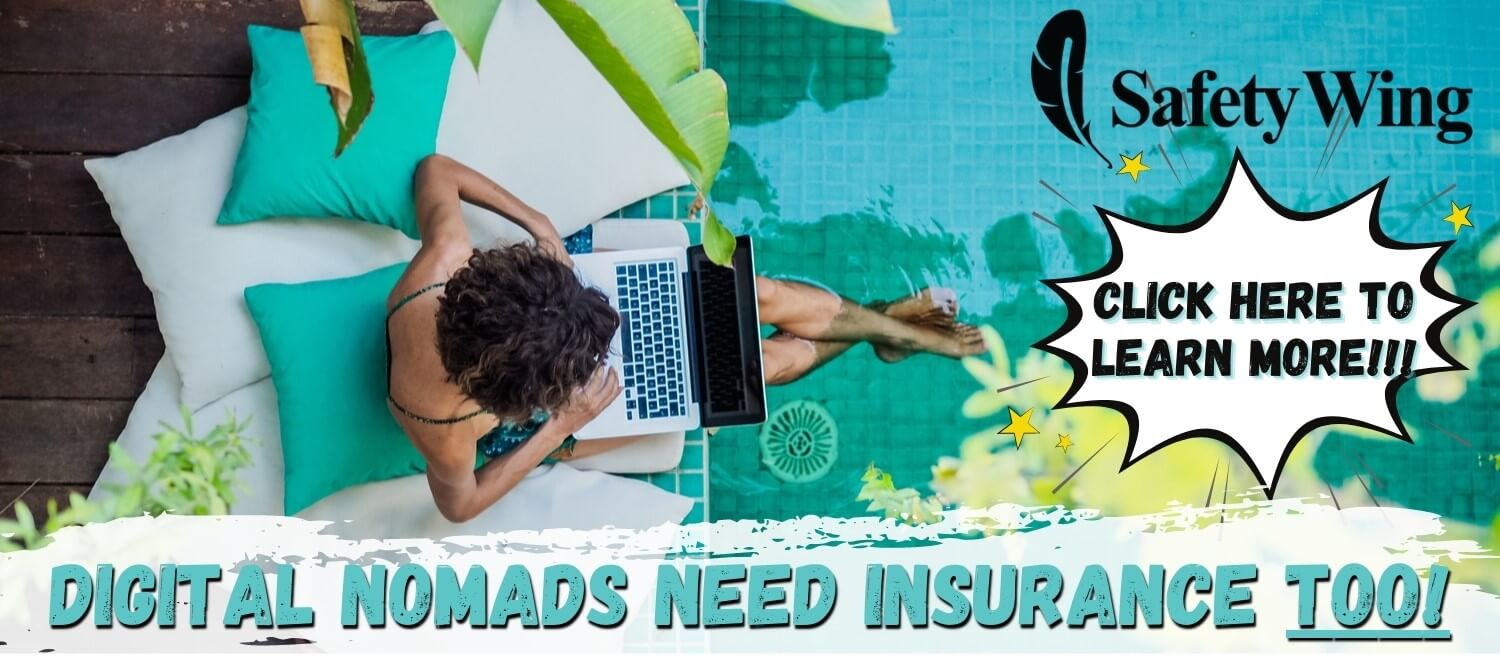 SafetyWing is cheap, easy, and admin-free: just sign up lickety-split so you can get back to work! Click the button below to learn more about SafetyWing's setup or read our insider review for the full tasty scoop.
Moving to Vietnam – What You Need To Know
We've got the nitty-gritty out of the way, let's dive into the general quality of life in Vietnam for someone looking to settle in. 
Finding a Job in Vietnam
Job opportunities here are scarce if you are a foreigner looking to work in specialized industries. Speaking Vietnamese is essential, however, you could try your luck with international companies seeking foreign experience and skills. 
Surveys show that expats living in Vietnam earn an average of $6,000 USD per month, and it is rated as one of the better countries to live and work in. But of course, this would depend on other variables such as your line of work and qualifications. 
With that out of the way, the obvious and preferred choice would be English language teaching. Many international schools and universities welcome foreign teachers since it is a highly sought language to learn. The average salary of an ESL teacher in Vietnam is around $1,200 USD per month for a first-time teacher. With more experience and qualifications, you can expect a salary of around $2,000 USD per month depending on location and employer. 
Another alternative would be to work with international non-profit organizations in Vietnam, where you get to work with special needs children, providing shelter to women and more. 
If you're looking for a job in Vietnam, you can visit expat forums or browse Vietnam's top recruiting online platforms like Vietnamworks, CareerBuilder, Mywork and more. 
Where to Live in Vietnam
The next step is to think about where you will set up a base. Are you looking for the comfort of city life with international restaurants, accessible brands and facilities, or are you looking for a quieter location and to get to know the locals on a deeper level?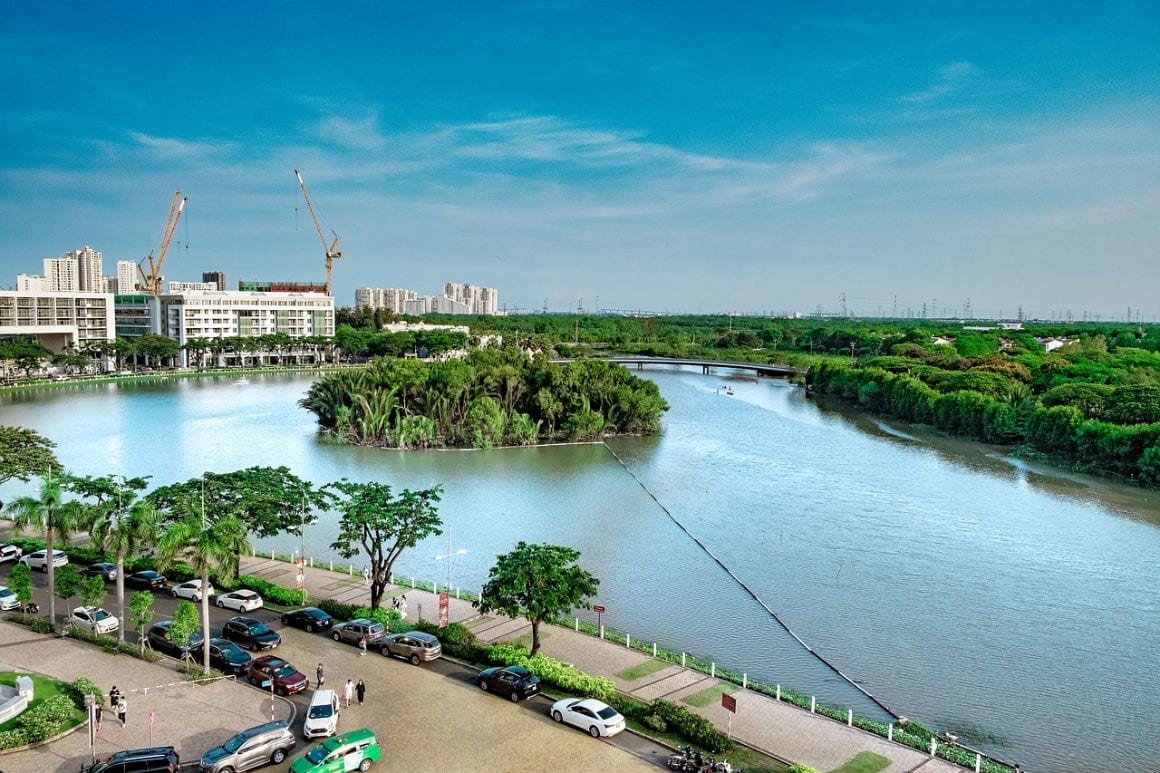 It is always best to rent a short term stay or Airbnb during the first days in Vietnam, just to get an idea on the ground before making any commitments. Either way, let's explore some of the more popular provinces amongst expats to get a clearer picture of what lifestyle best suits your preferences. 
Ho Chi Minh City
Home to Vietnam's largest expat community, Ho Chi Minh City (HCMC) is bustling with diverse experiences, people and employment opportunities. It has all the facilities you would want in a long-term stay, from shopping malls, fast food restaurants, good schools, healthcare and other premium features. 
Here you can find many world-famous brands selling at a fraction of the prices that you're used to back home. However, life in the city comes with its price. The commercial hub of the country, HCMC inevitably has a higher cost of living than the rest of the country. As is common with many metropolises, traffic jams and congestion are a common occurrence here.